Trusted by residents and businesses for more than a decade
NO SERVICE CALL FEE
WITH ANY PURCHASE OF $300
$49 Value, Must be presented at time of purchase. May not be combined with any other offer.
$425 - 1/2 HP BELT OPENER
Installation & service call fee additional
Must be presented at time of purchase. May not be combined with any other offer.
$1755 - TWO CAR DOOR
Installed!
Must be presented at time of purchase. May not be combined with any other offer. Standard 16X7 Door.
The Valley's #1 Choice For Garage Door Installation
Services Our Garage Door Technicians Can Help You With
Our certified door technicians are industry leaders in garage door installation and repair. We offer same day garage door repair and door install estimates, providing you with unparalleled convenience.
Garage Door Installation & Replacement
We offer a wide variety of residential garage doors to fit your needs and budget, including quality affordable doors, mid-grade doors, and high-end doors, such as modern and carriage-house options.
When you need a new garage door, we will walk you through every step of the installation process. This starts with a free inspection of your garage and a consultation to find out what your needs and budget are.
After helping you select the perfect door, our garage door professionals will help you install the door so that it will run smoothly and look great for years to come! Plus, all our garage doors come with an industry-leading warranty on parts and labor.
Installation
Garage Door Repair Gilbert AZ Valley Wide
Garage door issues can drive anyone up the wall. Fortunately, you don't have to suffer from an improperly working door for long when you have our local garage door company on your team. We service all makes and models of garage doors and can provide a fast solution to your most pressing concerns.
Whether your garage door has fallen off the tracks or has stopped working due to a faulty eye sensor, you can trust our team to deliver exceptional service. We keep your service vehicles well-stocked with quality garage door parts, including springs, cables, rollers, and hinges, so you can enjoy minimal delays to your daily routine. Learn more about our industry-best garage door repair services today.
Door Repair
Garage Door Opener Repair & Install
MasterCraft repairs and installs garage door openers. If your opener is noisy, not working properly, or has stopped working all together, our garage door services in Gilbert, AZ, are exactly what you need!
Our technicians are trained and carry parts to repair most all major brands, makes, and models of garage door openers, such as LiftMaster, Chamberlain, Sears, Craftsman, Genie, and more. We can also assist you with a new opener installation. All of our garage door service vehicles carry a range of opener models to fit any budget. If you're searching for garage door companies to help you with an opening mechanism issue, look no further than MasterCraft. We'll deliver quality customer service and exceptional results every time.
Opener Installation
Broken Garage Door Spring Replacement
If your garage door spring has snapped, you're most likely struggling to get your door to open, whether fully or partially. This, of course, is a big problem!
What should you do? First of all, do not try to operate the door. This can be very dangerous and cause additional damage to the garage door and garage door opener. Instead of dealing with the broken garage door springs yourself, request the help of a trained professional.
Call the best garage door company for same-day garage door spring replacement. We will send a certified technician to you to repair the broken spring system using top-quality, high-cycle springs that will last you for many years. All of our garage door springs are guaranteed with our parts and labor warranty.
Spring Repair
Smart Garage Doors Openers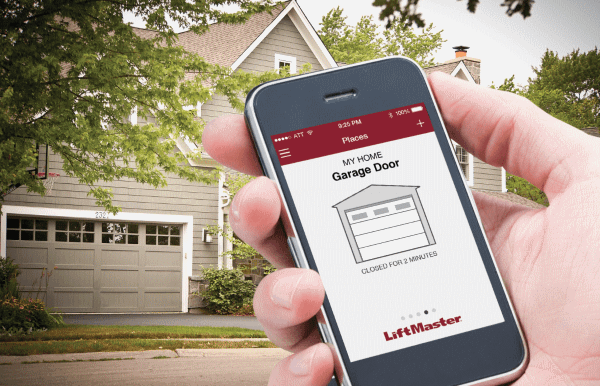 MyQ Smart Garage Openers provide peace of mind no matter where you are! We also offer opener repair and service for your smart garage door openers. Reach out to our team today to see our full line of LiftMaster garage door openers, including belt drive, chain drive, and jackshaft side mount mechanisms.
Smart Openers
Genie Door Openers make operating your garage door seem like magic. At MasterCraft, we offer services and repairs for Genie Garage Door Openers. We also stock Genie screw drive trolleys, couplers, sensor eyes, and much more to address every one of your needs in a timely manner. Call for same day service.
Genie Openers
A friendly tech will help you repair or replace today
Broken Spring Repair
Garage Door Replacement
Panel Replacement
Roller Replacement
Door off Track
Opener Repair
Opener Install
Wi Fi Opener App
Remotes
Key Pads
Get a hold of us in a few ways
Garage door issues can arise at any moment. Are you prepared to handle snapped cables, broken springs, or bent tracks when you least expect it? With the experts at MasterCraft Garage Door Service LLC, you can handle garage door emergencies with ease.
Our local garage door company has serviced the Salt River Valley for over 10 years, delivering premier repairs and installations. We don't shy away from challenging problems and will implement effective solutions in a timely manner. Because problems with your garage door can be unpredictable, we provide fast, same-day service to ensure you receive the help you deserve when you need it most. Plus, when you hire our garage door experts, you are guaranteed to receive free estimates on new installations and replacements, high-quality parts and workmanship, and advice from highly trained and certified technicians.
Don't entrust your repair and installation services to just anyone in the industry. Contact our team of professionals today and find out why we remain the master of garage doors.
Read More

The Areas We Service

When your garage door stops working, you can't afford to sit around waiting for a contractor to get to you "eventually." You need assistance now. While other garage door companies put your request in a queue and make you wait for hours or days on end, we prioritize your services. We have garage door technicians all throughout the valley area, so we can address your concerns without delay. Find our garage door services in Gilbert, AZ, and the surrounding areas, including:

Queen Creek, AZ
San Tan Valley, AZ
Tempe, AZ
Mesa, AZ
Scottsdale, AZ
Ahwatukee, AZ
Fountain Hills, AZ
Gold Canyon, AZ
Apache Junction, AZ

Our Residential Garage Door Company Delivers Quality Craftsmanship Every Time

Our first responsibility is to our families, neighbors, and business owners in our community. Our guiding principles are to always treat people right and with respect. We understand that your garage door is not just a door but something that you may use daily to begin your day or operate your business. MasterCraft's mission is to make sure the last thing you worry about is your garage door. When you choose our garage door services in Gilbert, AZ, you can trust you will receive exceptional results, whether you need help repairing a noisy door or replacing an outdated model.

Reputable Partnerships

When you're shopping for new residential garage doors, you need to know you're getting the best in the industry. Our garage door professionals partner with the most respected manufacturers such as Clopay, Wayne Dalton, Amarr, 1st United and many more to deliver quality installations and replacement parts so that you can have peace of mind for the entirety of your door's lifespan.

Experienced Technicians

Some projects are best left to the professionals — and garage door services are one such project. Our garage door experts can handle your repair and replacement needs, no matter how big or small, ensuring your door's longevity and your family's safety. All of our technicians are screened, trained, and certified so you can have confidence in the quality of our work.

Comprehensive Warranties

A mark of a good residential garage door company is a comprehensive warranty. Our team proudly offers a warranty for not just the parts of your garage door but also the labor. With our quality craftsmanship and parts and labor warranty, you can rest assured your garage door is in good hands.
Receive Quality Results From the Best Garage Door Company Today
Garage door issues can stop the most well-intentioned homeowners in their tracks. Fortunately, you don't have to suffer from malfunctioning doors for long because you have MasterCraft Garage Door Service LLC on your side. Our garage door services in Gilbert, AZ, can resolve an array of problems and get your garage door system rolling smoothly within no time — often on the same day you call us!
In addition to Gilbert, we offer services throughout the Salt River Valley area, including Chandler, Queen Creek, San Tan Valley, Tempe, Mesa, Scottsdale, Ahwatukee, Fountain Hills, Gold Canyon, and Apache Junction, AZ. Contact our team to book a service!
Call Now
Garage Door Installation Near Queen Creek
For going on two decades we have been installing garage doors for Creek Creek residence. We carry all major garage door brands. Serving Queen Creek in: 85140, 85298, 85142, 85143, 85212
High quality craftmanship is what we brink to ever garage door repair service call. We only use the best quality parts on every job. Chandler repair area: 85224 85225, 85226, 85224, 85246, 85248, 85249, 85286
Gilbert emergency Garage Door Service
Door won't open? Noisy garage Door or broken spring. We offer same day emergency service and repair near Gilbert AZ, including: 85206, 85234, 85297, 85233, 85212, 85295, 85263, 85296, 85298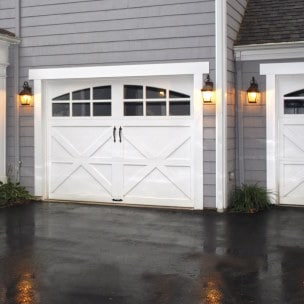 Garage Door Opener Installationin Mesa
Is your door opener loud and grinding? Look for a Wi Fi Smart opener. We offer same day Opener repair and install in Mesa AZ and the Phoenix area: 85207, 85202, 85206, 85209, 85213, 85215
Common Issues and Questions
DOOR SYSTEM LIFESPAN
Doors, their hardware and openers can last a long time depending on the quality of the product and proper maintenance. In Arizona a LiftMaster opener will last 10 to 15 years (depending on use), doors 15 + years and hardware 5 to 10 year. Maintenance your system annually to get the full like out of your system.
BROKEN SPRING
A broken spring is one of the most inconvenient issues to have with the door system, as the door will not open when this occurs. A spring will underperform prior to breaking and cause premature ware on other components such as your opener. Have your springs checked yearly.
NOISY DOOR
A noisy door can be caused by rollers, springs, bearings and other door hardware that is breaking down and underperforming. A noisy door lets you know it's time to have it look. Having your door system inspected at the first sign or sound of trouble will save you the headache of addition repairs or getting stuck in your garage.
DOOR OFF TRACK
This is the most dangerous situation to have with your garage door. If your door looks crooked, a cable is off or rollers are out, call for service immediately. Do NOT try and operate the door, doing so can cause expensive damage and is a big safety hazard.
DOOR WON'T OPEN
A door is not opening or stopping 6 inches off the ground can be caused by a number of different issue. Most common is an broken or underperforming spring or a problem with the door opener. Call for an inspection as soon as this occurs, do not continue to try an opener it as this will cause additional damage.
REMOTE NOT WORKING
The heat takes a toll on keypads and remotes. First check the batteries. Most openers have a lock function that will stop wireless devices from working, check for this on your wall button. Remotes, key pads and opener motherboards do go bad. If battery and lock function check does not fix it call for an inspection.
DOOR WON'T CLOSE
The most common reasons are safety sensor eyes that are out of alignment or obstructed by something near the door. Door hardware and opener break downs can also cause this issue. First check that the door area is clear and both lights are lit on the sensor eyes. If the door look crooked call for service immediately.
BENT PANELS
This will occur when to door had been hit, operated with underperforming springs or closed on something. In most cases damaged panels will need to be replaced. Replacement panels are specific to the make and model of the door and will require a free onsite inspection prior to replacement.