Wayne Dalton iDrive Torquemaster Repair
Service and Repair for Wayne Dalton Doors and Openers
MasterCraft garage door service repairs in stalls and replaces Wayne Dalton garage door and garage door opener products. We service the Wayne Dalton foam core garage doors, Wayne Dalton iDrive garage door openers and the Wayne Dalton garage door Torquemaster spring system. Most of Wayne Dalton's product lines are very proprietary in nature and not just any garage door company can work on them properly. MasterCraft technicians are trained on all Wayne Dalton products. Wayne Dalton garage door products are commonly found in Queen Creek AZ, San Tan Valley, Giblert AZ as well as the metro Phoenix aria. Call MasterCraft today for same-day service and free inspection of your Wayne don't garage door system.
Wayne Dalton iDrive Garage Door Opener
The Wayne Dalton I drive garage door opener has been discontinued by Waynesville. Parts from the manufacture are no longer available although in some cases they can be sourced on the Internet. We recommend replacing this opener with a standard overhead garage door opener such as a LiftMaster belt drive or chain drive system. MasterCraft can inspect and the reprogram remote keypad and travel limits for the iDrive opener made by Wayne Dalton. In a lot of cases the iDrive opener system is installed on the Wayne don't torque master spring system which are both proprietary. The iDrive system can be removed and the torque master system retrofitted to operate without the I drive and a new standard overhead opener can't be installed. While those two proprietary systems are tied together they can be separated on the opener side and a standard opener be used.Call today for your Wayne Dalton I drive opener service needs.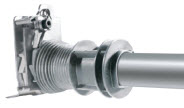 Wayne Dalton Torquemaster Garage Door Spring System
The Wayne Dalton torque master garage door spring system is a unique proprietary and innovative system designed by Waynesville. It features internal springs that are not visible and safety cable catches compliant with California safety standards. The systems are sleek quiet and are low profile so they do not require a lot of ceiling space. The Torquemaster system is rated at 10,000 cycles and carries a one year manufacturer's part warranty. MasterCraft can't replace existing Torquemaster system in some cases where is the application applies we recommend converting this system to a standard torsion spring system. A standard torsion spring system installed by MasterCraft carries a full parts and labor warranty. In some cases if you have and iDrive opener installed on your Torquemaster spring system you will also have to replace the opener to a standard opener if you are going to convert the Wayne Dalton spring system to a standard torsion spring system. Call today for your Wayne Dalton torque master spring issues.
Get a quote
Trusted by Residents and Businesses for More Than a Decade